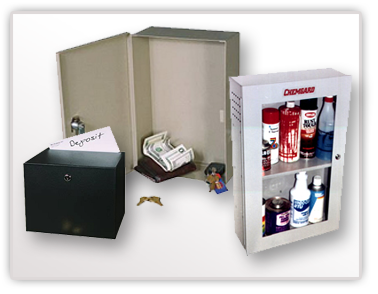 Mier Product's offers several specialty enclosures which don't naturally fit into our standard categories. Below you will find a few, including metal document boxes and wall mount lock box and vertical lock box models.
If you don't see what you are looking for on the Mier Products website, check out the Mier Product Catalog or just give us a call toll-free at 1-800-473-0213 and we can help!
Save
Save
Save
Save
Save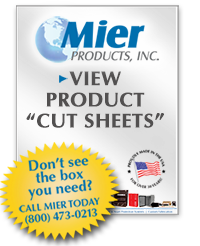 Scroll down to see ALL product models & features.
Save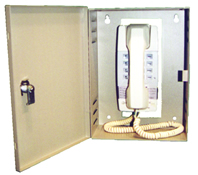 Dimensions (W" x H" x D"):
9" x 12" x 4.5"
Color: Beige

Features:

4" x 10" cutout
Keeps unauthorized persons from accessing telephones
Cam lock and 2 keys
Heavy gauge steel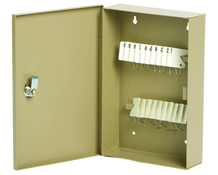 Dimensions (W" x H" x D"):
8" x 12" x 2.5"
Color: Beige

Features:

The 20-key cabinet is handy for use in homes and small commercial operations
20 blank key tags included
Additional may be purchased
Cabinet locks
Keyhole mounting
Continuous hinge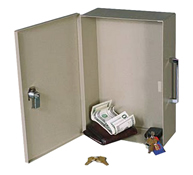 Dimensions (W" x H" x D"):
8" x 12" x 3.75"
Color: Beige

Features:

Solidly Fabricated
Carrying handle
Secured with lock
Handsome finish
Dimensions (W" x H" x D"):
16" x 25" x 6"
Color: Gray, White

Features:

Protect loved-ones from dangerous household chemicals or medicine. Store these items in the lockable "ChemGuard Enclosure!"
Adjustable shelves
Side vents
Mounting holes
Plexiglas window
Lock with two keys
Special order with a minimum of 25 units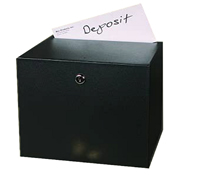 Dimensions (W" x H" x D"):
11" x 9" x 9.5"
Color: Black

Features:

Safe handling of money, checks or important documents
Allows material to be quickly deposited
1/2"x9-1/2" slot
Cam lock installed (w/2 keys)
Free standing or use key-holes for wall mount
QUESTIONS?  Call 800.473.0213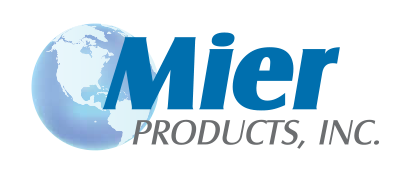 We want to hear from you.
We're here to help!
Mier Products, Inc.
1500 North Ann Street
Kokomo, IN, 46901
Office: 765.457.0223
Toll-Free: 1.800.473.0213
info@mierproducts.com
Fax: 765.457.0607 Save
Warranty Information for Enclosures:
Mier Products, Inc.'s Limited Warranty Program, for Standard Line or Custom Metal Enclosures and Parts, protects the original owner for 30 days from the date of purchase against defects in original parts or workmanship. Mier Products, Inc. agrees to repair or replace parts (Mier's option) that are deemed defective by our Quality Control Team, without charge for parts or labor, if the defective unit is returned prepaid to Mier Products, Inc., Kokomo, IN, 46901, within the 30-day period. As metal enclosures/parts are not products containing complicated technology or electronics, close inspection at the time of receipt by the customer will quickly determine product quality. Thus, Mier Products, Inc. recommends inspection of enclosures/parts immediately upon receipt and contacting Mier Products, Inc. if quality issues arise.
Mier Products, Inc. does not assume responsibility for claims or damages caused by improper installation or use of these products, accessories, and/or products connected to or stored within them. Mier Products, Inc. does not assume responsibility for damages to these products or their accessories due to shipping damage or damage occurring while in a customer's warehouse and/or possession. These products and any accessories (including but not limited to air conditioning units, heaters, fans, filters, locks, latches, tamper switches, removable panels) must be shipped, handled, stored, and installed with strict adherence to OEM installation instructions.
This warranty constitutes the entire warranty with respect to Mier's Metal Enclosures and Metal Fabricated Parts and IS IN LIEU OF ALL OTHERS, EXPRESSED OR IMPLIED, INCLUDING ANY WARRANTY OR MERCHANTABILITY AND WARRANTY OF FITNESS FOR A PARTICULAR PURPOSE AND IN NO EVENT IS MIER PRODUCTS, INC., OR IT'S OEM PARTNERS, RESPONSIBLE FOR ANY CONSEQUENTIAL DAMAGES OF ANY NATURE WHATSOEVER.
Any warranty OR sales questions should be directed to Mier Products at 800-473-0213, or via e-mail to info@mierproducts.com.
Warranty Information for Air Conditioner, Heaters, Filters, Fans, Other OEM Partner Accessories:
Mier Products, Inc. works closely with reputable OEM Partners to offer accessories for our lines of enclosures and Drive-Alert Vehicle Detection Systems. Those accessories are warranted and supported by their OEM. As an example: Mier Products exclusively uses McLean Thermal air-conditioning units for our Temperature Controlled Enclosures. While the enclosure portion of these units is warranted by Mier Products, Inc., as written above under Metal Enclosures and Metal Fabricated Parts, the AC/Heater unit would be warranted and supported by McLean Thermal.